Discover the world class diving that the second largest barrier reef in the world has to offer.
The clear blue warm waters of Belize are world-renowned for being a diver's paradise. Located just ½ mile (800 meters) from Portofino's beach, the Belize Barrier Reef offers the most amazing dive sites in the world. Our Dive Shop takes pride in professionalism and quality service and is eager to take you to discover our impressive underwater world. If you prefer to book your dive tours without a package, visit our Belize diving tours page.
The Belize Diving Package includes:
(Includes tanks and weights)
Enjoy an up-close and personal experience with some of the sea's most fascinating creatures. Gain an appreciation of not only the beauty but also the fragile nature of the undersea world, and what you must do to protect it. During these diving experiences, divers will explore some of the most pristine reef systems that the Caribbean offers. **2 days 2 tank dives for low season**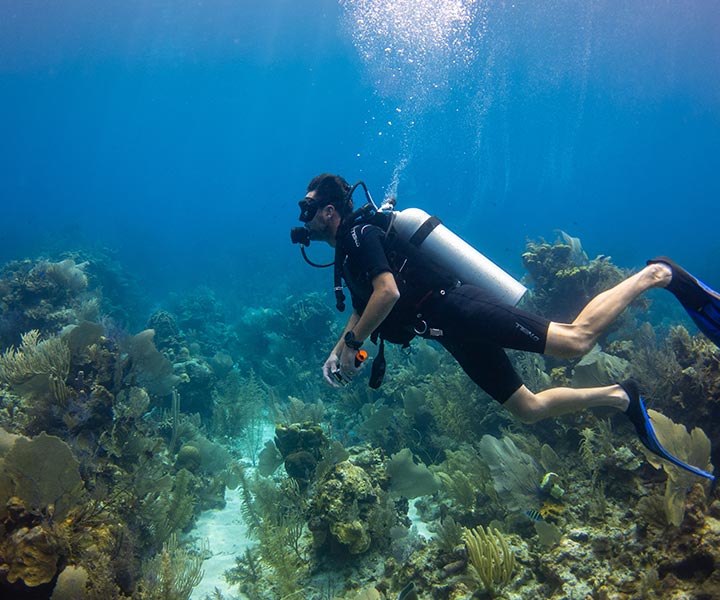 Diving the Great Blue Hole
Top off your dive vacation with 3 world-class dives. Venture into the best deep dive there is and view stalactites, stalagmites and enjoy the view of the sharks as you plunge into the depths. An abundance of marine life such as queen angel, grouper, triggerfish and spotted moray can be seen at the top of the wall. With 100 plus foot visibility, the profile for this dive is 130 ft. for 10 minutes actual and 25 minutes total dive time. The Blue Hole is also great for snorkeling. The walls are surrounded by fabulous pristine coral formations. Lots of color and crystal clear water and only 6 foot deep where the drop-off begin. The second and third wall dives offer vibrant coral gardens, sponges, plunging wall, schooling fish, sea turtles, eagle rays, and sharks on almost every dive. After our second dive/snorkel, lunch and stroll the beach to the bird sanctuary to see boobies, frigate birds, and iguanas.
Contact Us for Pricing & Booking