Be awed with the largest barrier reef in the northern hemisphere...
The clear blue warm waters of Belize are world-renowned for being a diver's paradise. With its marine landscape boasting three of only four atolls in the Northwest Caribbean and its Barrier Reef, the second-largest in the world, stretching for 185 miles / 298 km along its coastline, the diving here is, to say the least, simply spectacular… The environment is unspoiled and the experience intimate! Between the mainland and the Belize Barrier Reef, sit more than 450 cayes, islets and islands, including Ambergris Caye, where Portofino is located. The Belize Barrier Reef is only ½ mile (800 meters) from Portofino's beach.
The Great Blue Hole, located in the center of the Lighthouse Reef, is the world's largest known underwater sinkhole measuring 1000 feet in diameter and plunging to a depth of over 400 feet. It was made famous by marine explorer Jacques Cousteau on his research ship "Calypso" in 1972, and is the most well known dive site in Belize.
All diving and snorkeling starts from the Portofino dock, as we have our own Dive Shop. Join our PADI Dive Master for a free "try dive" in our pool to get acquainted with diving. If the prospect of diving entices you, our Dive Master can get you certified as a PADI Open Water Diver.
Enjoy an up-close and personal experience with some of the sea's most fascinating creatures. Gain an appreciation of not only the beauty but also the fragile nature of the undersea world, and what you must do to protect it. During these diving experiences, divers will explore some of the most pristine reef systems that the Caribbean offers.
Single tank dives or multiple dives are available. For the more adventurous diver, night dives can also be arranged. All reef dives are approximately a 10 to 25-minute boat ride from the Pier.
Includes: Round-trip transfers, guided tour by a knowledgeable dive master, tanks, weights and water.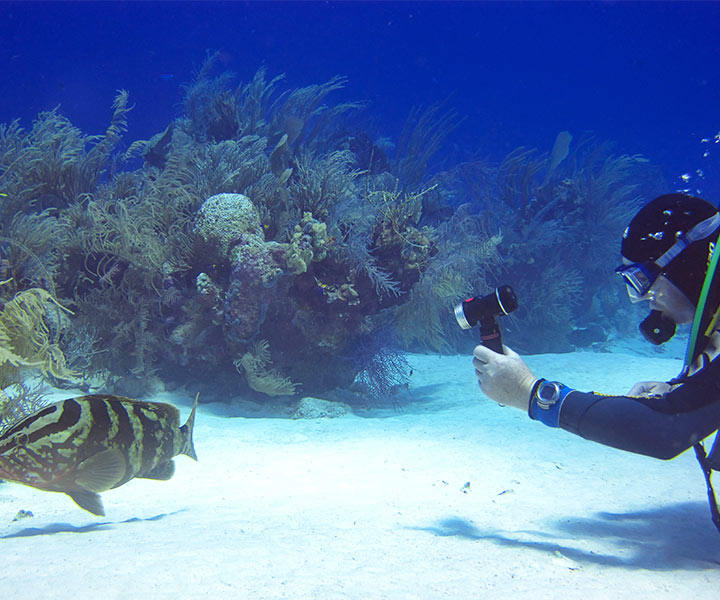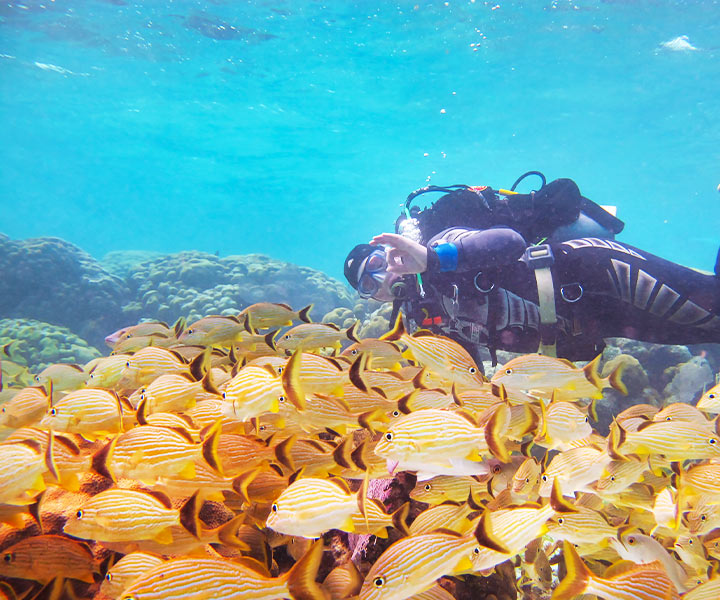 The perfect place to start with a shallow dive, Hol Chan is a natural channel through the reef. This marine sanctuary covers about 5 square miles. An impressive amount of marine life and coral can be seen on this dive of about 30 feet (9 meters). Tidal currents funnel a steady supply of food to filter feeders such as gorgonians, sea-fans, sponges, schools of grunts, and mutton snappers. Joining these plankton feeders are Nassau groupers, black groupers, Atlantic spadefish, cubera snappers, and a huge congregation of schoolmasters. At the channel walls, many eels can be seen, and large groupers will accompany divers right from the boat on.
Afterward, you head over to shark Ray Alley for one snorkeling stop with the friendly stingrays and nurse shark which you can pet and hug. The perfect trip for families with both divers and snorkelers.
Includes: Round-trip transfers, guided tour by a knowledgeable divemaster, tanks, weights, and water.
Mexico Rocks, located right in front of Portofino, is basically a cluster of coral heads. Truck size colonies of boulder coral 10 – 12 feet (3.5 meters) high nearly reach the surface and provide refuge to a wide variety of marine life. From flame scallops, anemones, sponges, tube worms, shrimp to moray eels, butterflyfish and wrasses inhabit this area. The shallow conditions and favorable light are perfect for underwater photography.
Includes: Round-trip transfers, guided tour by a knowledgeable divemaster, tanks, weights, and water.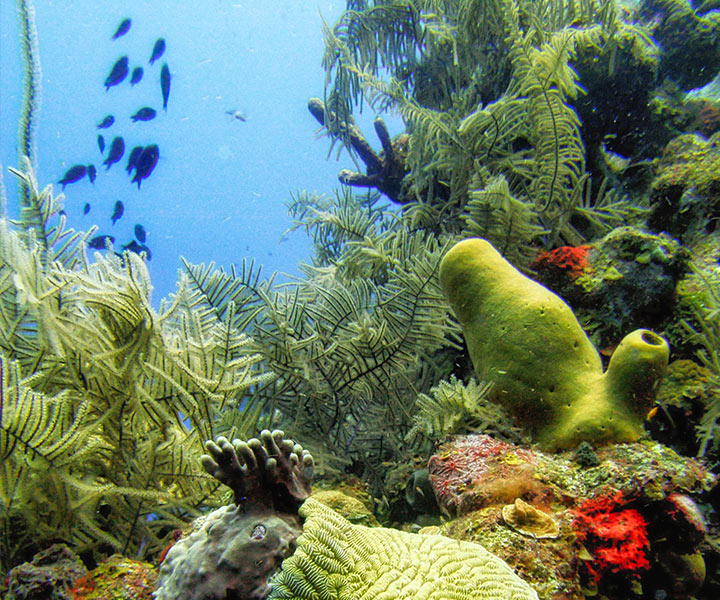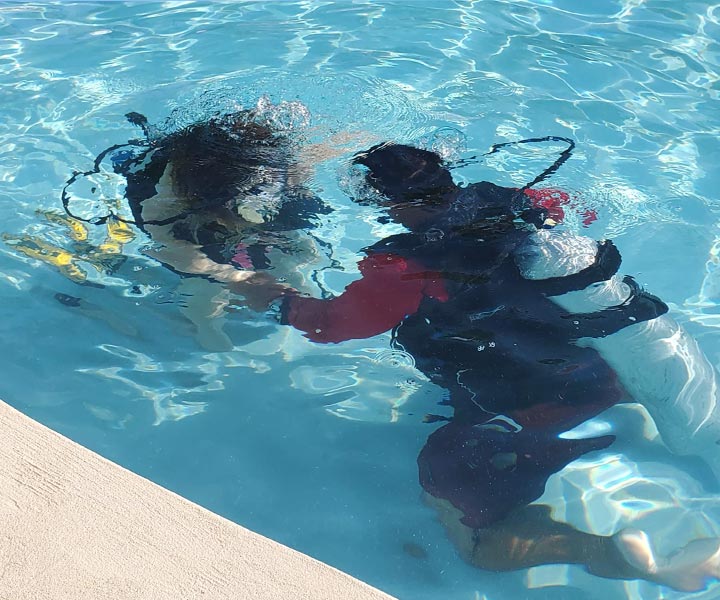 You are more than welcome, to try our complimentary Try Dive in our pool! Come and experience diving with us. Your scuba instructor will spend a little time with you to explain the basic principles of scuba diving and give you an overview of your scuba gear. Once you feel comfortable, your instructor will take you in the pool to help you learn basic scuba skills. Then when you are hooked on diving, you can immediately progress to the half-day PADI Discover Scuba Diving experience!
When you would like to experience how it feels like to breathe underwater, please notify our front desk personnel at least 24 hours in advance. As this is based on availability, to secure this great opportunity, we recommend doing so upon checking in at the resort, as with all the amazing diving Belize has to offer, the dive shop can be quite busy at times.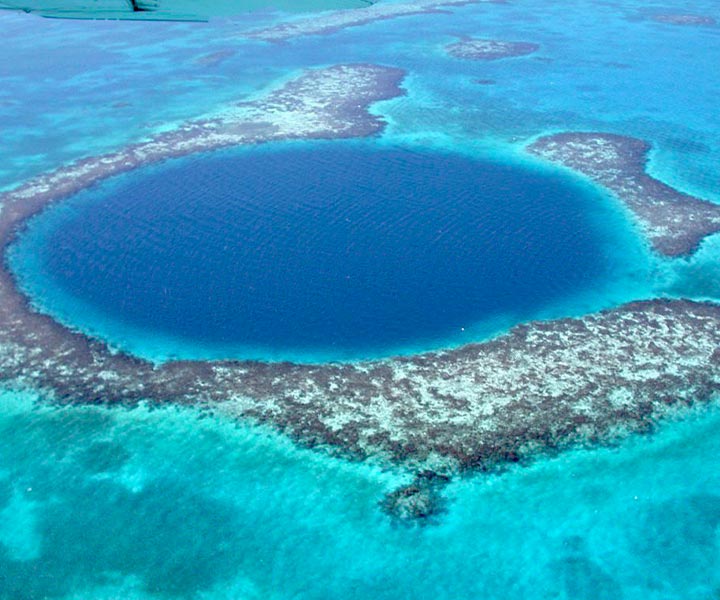 The Great Blue Hole is a large submarine sinkhole off the coast of Belize and is a popular spot amongst recreational scuba divers, who are lured by the opportunity to dive in crystal-clear water and meet several species of fish, including giant groupers, nurse sharks and several types of reef sharks such as the Caribbean reef shark and the Blacktip shark.