We take care of everything to make your destination wedding perfect
When it comes to designing your dream wedding in Belize, Portofino Beach Resort offers excellent wedding services to ensure that every moment is magical. From flowers and food to photography, decorations, and music, our beautiful resort offers a very detailed wedding planner service. A magnificent venue, attention to detail and expert wedding planning creates elegant and luxurious destination weddings here in Belize.
We can take care of everything including pre and post wedding activities for you and your wedding party.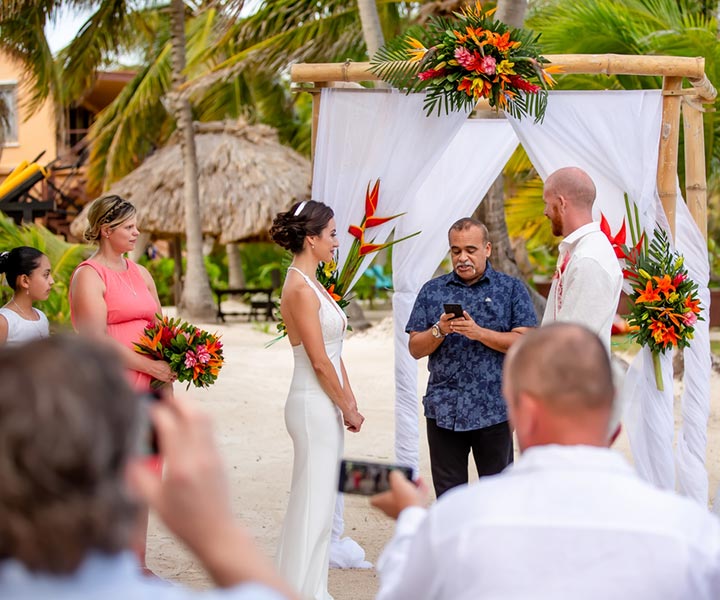 Getting married in Belize is very easy and our wedding planner will be there to help you every step of the way! Civil ceremonies are in the tradition of British Common Law. There is no need to register your marriage when you return home as your Belizean wedding is legal and is recognized in all other countries.
You need to be present in Belize 3 business days prior to your wedding date before you can apply for a marriage license.
You will need your passports and if applicable, the original Divorce Certificate or Death Certificate.
Our wedding planner will arrange your marriage license and the formal registration of your marriage. We also assist in arranging everything else, from the cake to the flowers to the music and all the special touches to make your special day a memorable and perfect one! 
From a Belizean island-themed beach BBQ to an elegant or casual beach dinner, our Wedding Planner and Portofino team will assist you with making your reception stress-free and filled with personalized details that reflect your style.
Make your wedding day as unique and special as your love by building a totally personalized celebration inspired by you! Let us know what type of centerpiece, place settings, and finishing touches you envision and we will do our best to bring it to life!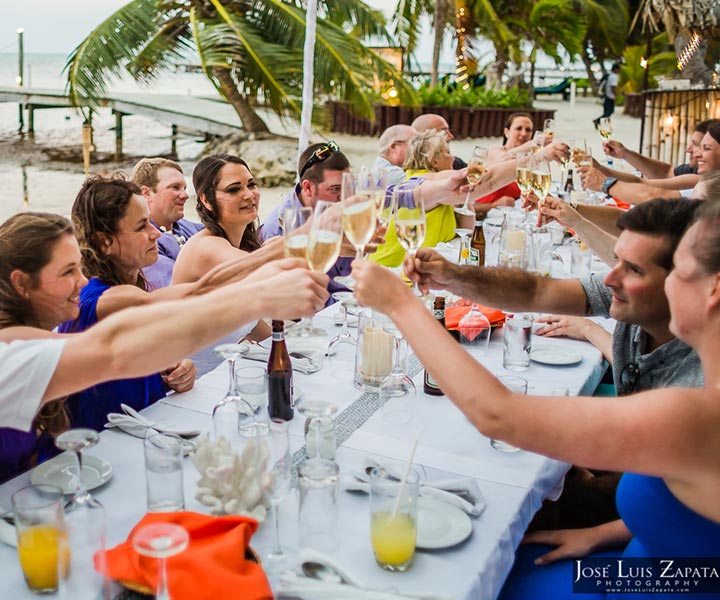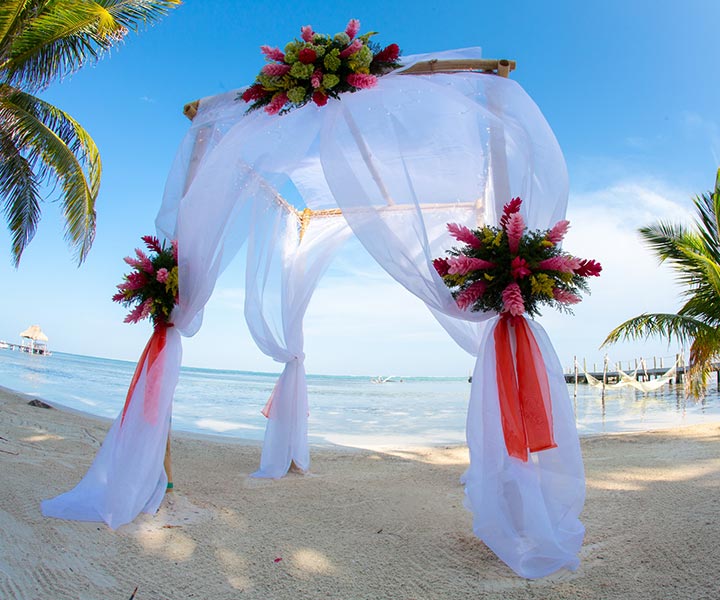 Our Wedding Packages include tropical bridal bouquets with matching boutonniere. These tropical arrangements are made up of red gingers, pink gingers, and bird of paradise. However, you can upgrade to different types of flowers such as roses, cymbidium orchids, calla lilies, gladiolas, tiger lilies etc. We do all we can to acquire your desired choice of flowers, however, we ask you to kindly provide us with alternate options as well. Bear in mind that all flowers are seasonal and imported weekly. The price is dependent on the type and the country of origin.
Portofino Beach Resort is a small property and therefore we typically cater to a maximum of 70 guests for a wedding ceremony and reception. We offer an a la carte option from Portofino Restaurant's menu for groups of 10 & under. For groups larger than 10, we offer a casual Belizean BBQ or a customized plated menu prepared with all different menu options for you to choose from.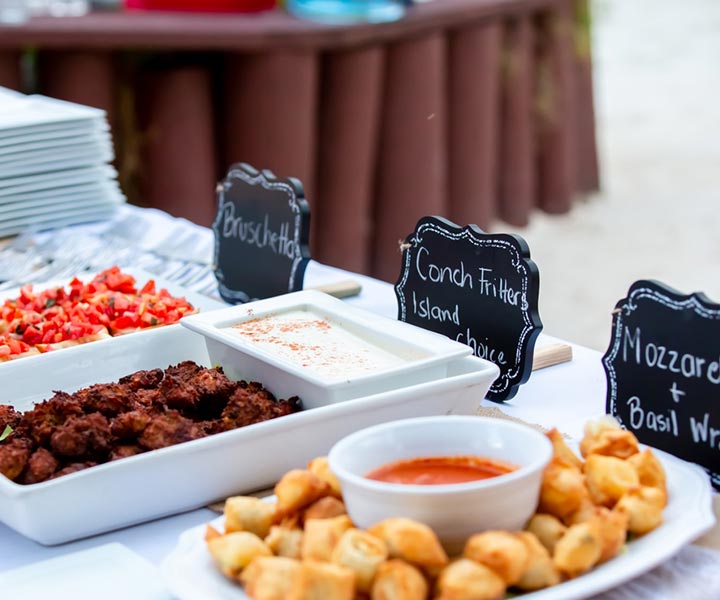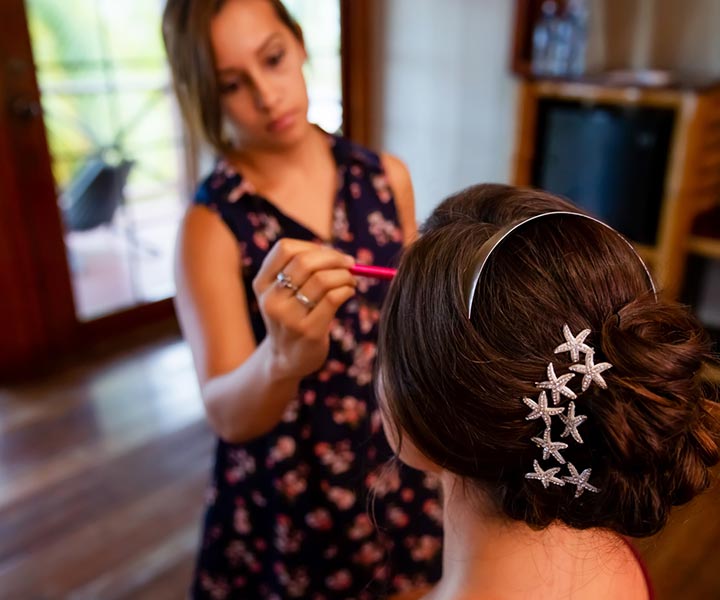 Whether you choose to use the breezes to your advantage and wear your hair down or let a long veil flutter beautifully, or if you want to keep every hair in place with a half up bridal hairstyle, wedding braid or classic curly up-do, our hairdresser can help you find the perfect hairstyle! Natural or romantic make-up styles are recommended for the humid weather, but classic and dramatic makeup is not a problem for our beautician.
Our wedding planner is happy to arrange a meeting with the hair dresser/makeup artist before the ceremony to ensure that you get the perfect look for your photos.
We assist in making recommendations for a professional baker located in Ambergris Caye. We work with competent and reliable bakers and pastry shops that will not disappoint in ensuring that both taste and presentation are what is expected.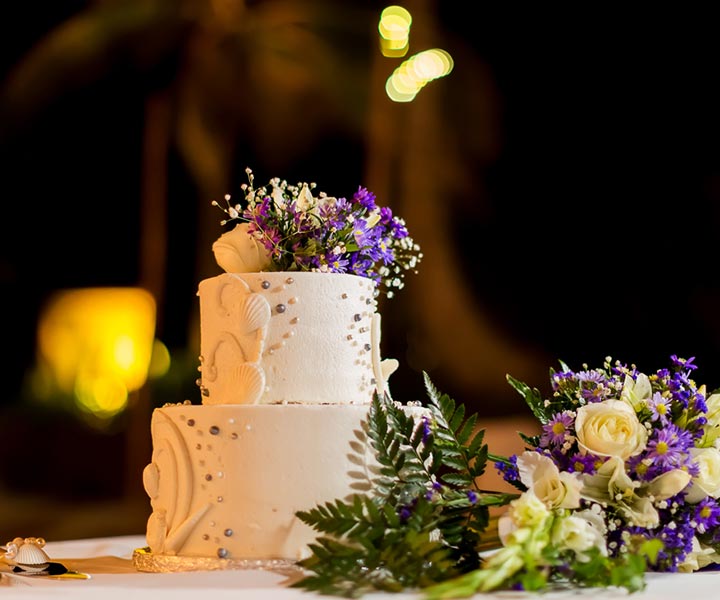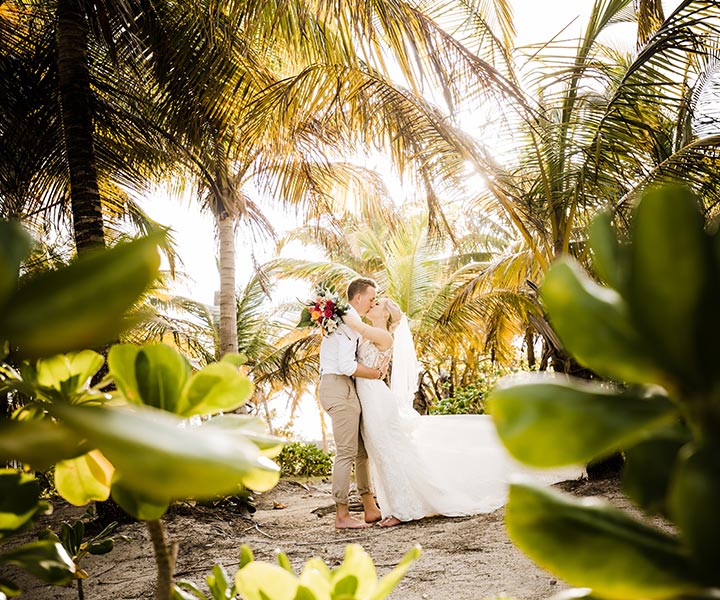 We are happy to assist in making excellent recommendations for wedding photographers in Belize. Our local wedding photographers are all very professional and work hand in hand with our clients to ensure that their wedding of their dreams is captured in each picture. We also work with a few international photographers who have been to Portofino with a selection of wedding parties and are also excellent options when booking your photographer. Click on our wedding FAQs section to view more details on these photographers.
Enjoy all your special songs! Send us your play list and we can arrange a live DJ for your wedding event. We provide you with background information on a selection of DJ's to choose from and you decide which works best for you.
Let us know what you are looking for our Wedding planner will work hard at looking for what best suits your needs.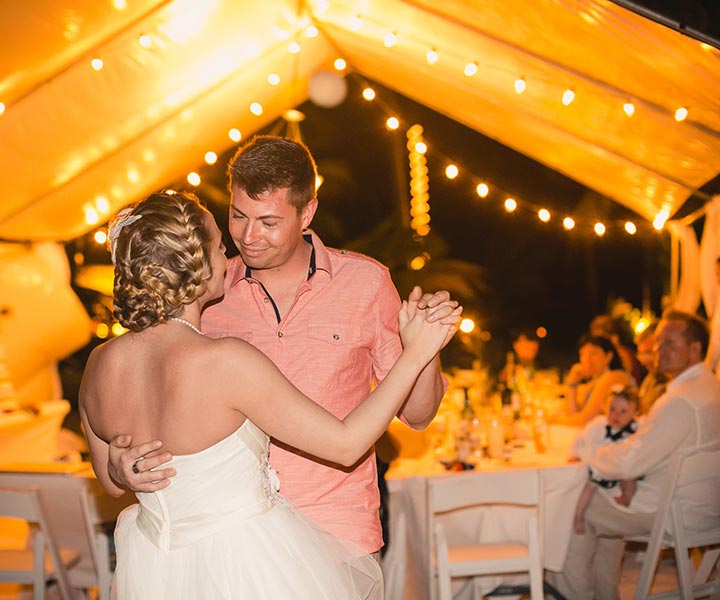 Our supplier offer many video projects, from small to large, with the most popular service on the island, being weddings. Their packages range from the basic unedited video of the ceremony to elaborate videos including the reception as well, capturing the key elements of your special day from start to finish. Add-ons include video guestbook, wedding vignette and photo slideshows.
Start Planning your Dream Wedding
More About Weddings at Portofino: