Belize Covid Travel Update
Covid Safety at Portofino
NEW VISITOR ENTRY REQUIREMENTS AND SAFETY PROTOCOLS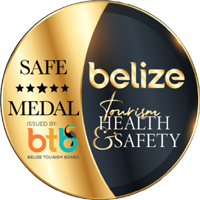 We are an approved Gold Standard hotel and we look forward to welcoming you to our beautiful country. Belize has implemented enhanced health and safety protocols to protect you and ensure that you'll enjoy your vacation.
For our COVID-19 cancellation policy – click here
The following are some guidelines to help you prepare for your trip and to prepare you for what to expect during your time here.
Effective Feb. 15, 2022
All visitors are required to apply for Belize Travel Health Insurance – a mandatory insurance that helps protect travelers against incurred medical and non-medical expenses, if they test positive for COVID-19 during their stay in Belize.
The cost of the policy is $18 USD per person and provides coverage for up to $50,000 USD in medical expenses related to treatment of COVID-19 for a period of 21 days. This insurance plan will come online under the country's public health regulations and provide cover for lodging expenses due to quarantine up to $2,000 USD (max $300/day USD). Travelers will also be covered for emergency assistance services such as air evacuation and emergency expenses related to pre-existing conditions. Furthermore, it covers trip cancellations and expenses incurred by COVID-19 positive travelers for extended stays.
Some important entry highlights are listed below:
It is recommended that travelers purchase the Belize Travel Health Insurance prior to their travel to Belize. However, purchases can be made upon arrival at the Philip Goldson International Airport or at Belize's land borders.
Visitors must purchase Belize Travel Health Insurance and are required to complete the Customs and Immigration form that is provided on all flights to Belize.
Exempted from this mandatory insurance are Belizean nationals, permanent residents and travelers with QRP or Long Stay status and flight crews.
Arrival COVID-19 Test Requirement:
All travelers entering Belize at the Philip Goldson International Airport (PGIA) will be required to present a negative Covid-19 PCR test taken within 96 hours of travel or a negative result from any approved Antigen Rapid Test taken within 48 hours of travel.
Negative COVID-19 PCR TEST taken within 96 hours of travel.
OR
Negative rapid test (Rapid Antigen, Sofia, SD Biosensor, and ABBOTT (Panbio) taken within 48 hours of travel.
* Children under the age of 5 are not required to present a negative COVID test; However, children 5 years and older must present a negative COVID test.
*if no test is presented, a COVID-19 test will be administered at the airport. (USD$50 per passenger).
On Arrival in Belize:
You will disembark the plane – wearing a face mask – and proceed to health screening.
If you brought along your negative Covid-19 test, and you are cleared by Health Officials during your health screening you will be able to proceed immediately for Immigration & Customs processing. Depending on your health screening, you may be randomly selected for secondary testing.
If you were unable to bring the results of a RT-PCR or approved rapid Covid-19 test, you will be required to proceed to the testing area for a COVID-19 test. Testing is at the passengers' expense and costs US$50.00. Only cash is being accepted at this time; credit card machines and ATMs are not available.
Testing at the airport will be done on a "Swab and Go" basis for tourists that will be staying in Gold Standard hotels.
Only positive cases will receive notification from the Ministry of Health within 24 hours. Any positive tourist can quarantine at their Gold Standard hotel; quarantine is at the passengers' expense and the Ministry of Health must provide clearance for you to leave quarantine.
After being cleared by Health Officials, proceed to Immigration and Customs, and then exit the airport via the Tourism Safe Corridor using Gold Standard or certified air or ground transportation.
During your Stay in Belize Do:
Wear your face mask at all times when in public spaces
Practice social distancing
Practice proper hand hygiene by washing hands regularly with soap & water or use hand sanitizer
Use Gold Standard certified accommodations, tour operators, tourism transportation providers (car rentals, domestic airlines, taxis), and visit Gold Standard restaurants, gift shops, and tourism sites all of whom have implemented enhanced health and safety protocols for your protection.
A complete listing of Gold Standard entities can be found at https://www.travelbelize.org/health-safety
For up to date information on the destination's travel protocols and frequently asked questions, please visit: https://www.travelbelize.org/health-safety
Where to get a COVID-19 Rapid test in Belize upon Departure:
Belize Diagnostic Center or Caring Hands – US$75/85 – Testing to be conducted on site and coordinated via our Frontdesk Team the day prior to departure.
Thank you for choosing Belize, and we look forward to having you with us!